SendPro® MailCenter – Mailing & Shipping Postage Meter
---
The SendPro MailCenter is an advanced, all-in-one mailing and shipping solution that offers a modern user experience, making sending easier and streamlined. With fast automatic-feeding, you can quickly process high volumes of mail and easily ship and track packages all from one reliable system. The SendPro MailCenter helps improve productivity and bring new levels of efficiency to your organization.
---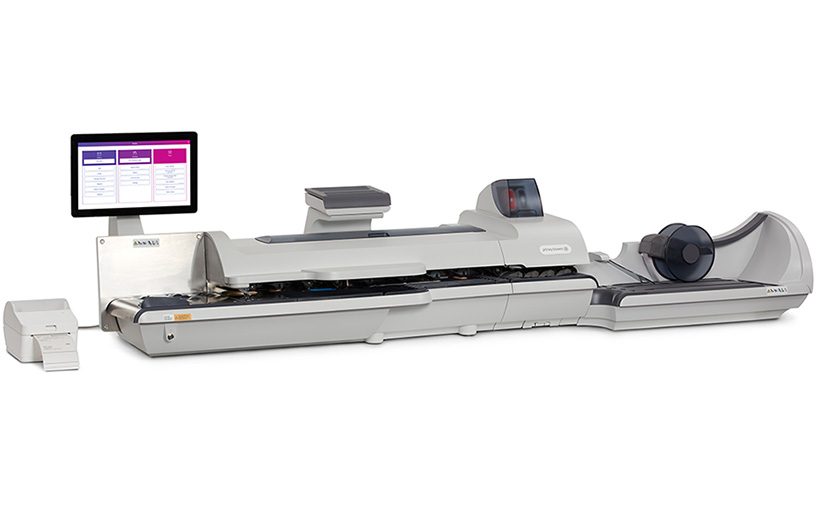 Introducing the all-in-one mailing and shipping solution

High Speed technology
Automatically feed, seal and print USPS® postage for mail up to 3/4″ thick, at speeds up to 310 letters per minute.

Weigh-on-the-Way®
Eliminate manual sorting of mixed mail with our patented technology, the MailCenter can weigh each envelope as it moves through the system and accurately print postage, so you always pay the right amount.*

Large Color Touchscreen
Experience a simplified way to process all your sending options with an easy-to-use 15" color touchscreen display.

Multi-carrier access
One single experience makes it easy to compare services and costs for USPS, FedEx® and UPS®, access special discounted rates and track shipments and costs all in one place.
SendPro MailCenter 1000 & 2000
Streamline your sending workflows
Designed for the fast processing of high-volume mail, our reliable technology delivers the highest savings potential for sending mail and packages.
SendPro MailCenter 3000
Achieve maximum productivity
Our most efficient model built to process mixed mail at speeds up to 205 letters per minute, eliminating time-consuming sorting of mail by weight and size. The MailCenter 3000 can process same-size mail at speeds of up to 310 letters per minute, optimizing your sending workflows and helping you to save.
See the SendPro MailCenter mailing and shipping systems in action.
SendPro MailCenter 1000 & 2000 Mailing Systems
SendPro MailCenter 3000 Office Mail System
SendPro MailCenter Capabilities

Ship from Anywhere
Access the same shipping capabilities on the SendPro MailCenter outside the mailroom with PitneyShipTM or PitneyShip Pro, on the Shipping 360TM platform. Now users can ship packages from their desktops through a centralized, controlled account and gain visibility into shipping spend and package tracking.

Visibility and Control
Gain greater visibility across your mailing & shipping operations with PitneyAnalytics™, our cloud-based analytics solution. Powered by the Shipping 360 platform, PitneyAnalytics eliminates data silos and can help you make smarter, data-driven decisions by viewing usage, spend and performance by location and users.
Compliance and Global Services.
The SendPro® MailCenter continues to meet all current USPS® regulations including the latest Intelligent Mail® Indicia (IMI) specification. Plus, Pitney Bowes Global Services offers a full array of end-to-end service, professional installation, and optimization resources.

Customize your envelopes and save money
With flexible printing capabilities found on the SendPro MailCenter, it's easy to print business logos, return addresses and promotional messages directly onto your envelopes at the same time you print postage. Eliminate the expense of pre-printed stationary and print envelopes on demand, so you never run out.